Overcoming both Physical and Demographic Tsunamis – Struggling Japan Pioneers Asia and the World towards a Matured Calamity-proof Society: a special lecture by Kosuke Motani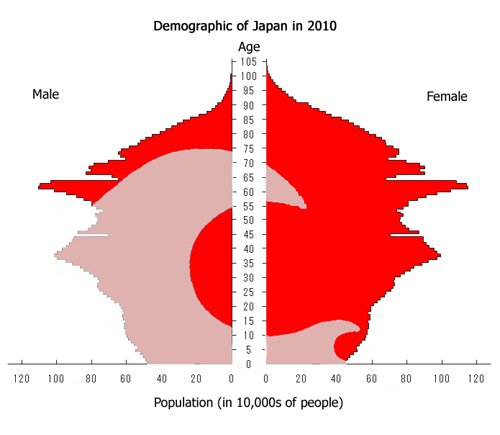 Date: 17 May 2011, 6:30pm
Venue: The Japan Foundation, Russell Square House, 10-12 Russell Square, London WC1B 5EH
Tel: 020 7436 6695
Fee: This event is free to attend but booking is essential. To reserve a place, please email your name and the title of the event you would like to attend to event@jpf.org.uk.
Web: http://www.jpf.org.uk
Organiser: The Japan Foundation
Why has Japan's domestic demand been floundering since long before the financial crisis hit? Understanding the "Demographic Tsunami," or the phenomenon of aging baby boomers in Japan, helps us comprehend what is going on. And the problem is not peculiar to Japan. Similar "tsunamis" will also hit many other countries including China and India in the coming decades. Tips on how to survive can be found among the best practices being pioneered in the struggling country of Japan.
This seminar, based on plain figures of basic statistics and candid observations of the reality of the situation, will help the audience foresee something of the future, while enhancing their capability to survive in the new era of the global economy.
The lecturer will also present up-to-date information about the damage and the process of recovery from the recent earthquake accompanied by the tsunami and accidents at nuclear power plants. Through overcoming both the physical and the demographic tsunamis, Japan would be able to become the first "calamity-proof" society with a matured but nevertheless robust economy.
Kosuke Motani is Senior Vice President of the Regional Planning Department at the Development Bank of Japan Inc and a Working Group Member for the Reconstruction Design Council of the Cabinet Office, having received an MBA from Columbia University in 1994.
He is a leading figure in Japan in the field of demography and regional economy promotion. While working as a regional development consultant of the development bank of Japan (DBJ), Motani has been devoting himself to creating and presenting strategies for national/local governments, private enterprises and NPOs for their economic prosperity and business success.
In the fiscal year 2009, Motani got a chance to work in Singapore as a partner of IE Singapore, a governmental agency, to widen his perspective and experience. After returning to Japan, he published a book titled "Silver Tsunami", or Non-monetary Deflation in Japan. The book sold 500,000 copies so far, being ranked among the bestsellers of the year. Japanese economists voted for this work to entitle it as among "top 3 economic books 2010," a ranking by Weekly Diamond, an economic magazine.
Professor Janet Hunter, Saji Professor of Economic History and Head of the Economic History Department at the London School of Economics will be the discussant at this event.