Park Chan-wook's "JSA: JOINT SECURITY AREA" at the Prince Charles Cinema on Wednesday 31 July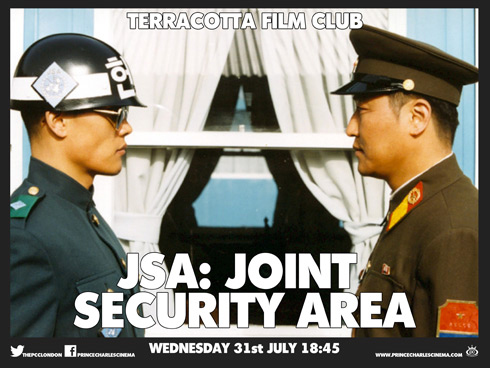 For this summer's edition Terracotta Film Club revisits the early work from Park Chan-wook, the acclaimed South Korean director of OLD BOY and STOKER.
The screening on 31 July follows days after the 60th anniversary of the ceasefire agreement between North and South Korea on 27 July.
JSA: JOINT SECURITY AREA is a tense thriller where an incident one night jeopardises the delicately balanced North and South Korean ceasefire agreement.
A box office smash in its country back in 2000, it features a younger Lee Byung-hun, who is now enjoying global stardom since he landed in the G.I. JOE franchise and RED 2. Prolific actor Song Kang-ho will also be in the international spotlight soon with the highly anticipated release of SNOWPIERCER.
In August, Terracotta Film Club will be playing the dark thriller romance REVENGE: A LOVE STORY. A serial-killer targeting pregnant women on the loose to coincide with Frightfest.
JSA: JOINT SECURITY AREA:
Wednesday 31 July at 6.30pm doors open/ 6.45pm film starts
Ticket price: £ 7.50 (Prince Charles cinema members £ 5.00).
Cast: Lee Yeong-ae, Lee Byung-hun, Song Kang-ho, Kim Tae-woo, Shin Ha-kyun
Director: Park Chan-wook
Runtime: 110 min. / Cert.15 / Action Thriller / 2000
Country: South Korea, Korean language with English subtitles.
Original Title: Gongdong gyeongbi guyeok JSA/공동경비구역 JSA
Synopsis:
Set on the volatile Demilitarised Zone between the South and the communist North Korea. After a confused incident at night, where both sides open fire at each other, one North Korean soldier is killed and a South Korean soldier is injured. Hoping to avoid an escalation in the crisis, both sides agree to allow neutral Korean-Swiss investigator Sophie Jean (Li Yeong-Ae, SYMPATHY FOR LADY VENGEANCE) to look into the case. When she discovers discrepancies in the amount of bullets fired from each soldier's gun that night, and when witnesses try to commit suicide rather than talk to her, Jean realises that the truth behind the shooting is much more explosive. Stars Lee Byung-hun (RED 2, GI JOE, A BITTERSWEET LIFE) and Song Kang-ho (SNOWPIERCER,THE HOST).
Courtesy of Palisades Tartan
REVENGE: A LOVE STORY
Wednesday 28 August at 8.45pm doors open/ 9.00pm film starts
Ticket price: £ 7.50 (Prince Charles cinema members £ 5.00).
Cast: Juno Mak, Sola Aoi, Chin Siu HO, Tony Ho
Director: Wong Ching-po
Runtime: 90 min. / Cert.18 / Horror Thriller / 2010
Country: Hong Kong, Cantonese language with English subtitles.
Original title: Fuk Sau Che Chi Sei
Synopsis:
Police are investigating a serial killer who targets pregnant women and the media have labelled him 'The Dissector'. At the scene of yet another such murder, undercover detectives Jeff and Kwok Wah (Chin Siu Ho, Tony Ho) comb the area and find a known suspect, Chan Kit (Juno Mak), and bring him in. Chan Kit remains silent throughout the physically brutal interrogation and is released without charge. If Chan Kit is not the killer, then who is? The story unfolds step by step, jumping with flashbacks as to how Chan Kit is linked to the group of undercover policeman in the first place and the pain he has silently endured; this is a story about unconditional love. A thriller with a star cast: Sola Aoi (BIG TITS ZOMBIE), Juno Mak (DREAM HOME), Tony HO (Sex and Zen 3D), Chin Siu HO (Mr. Vampire).
Courtesy of Terracotta Distribution / terror Cotta