PechaKucha Japan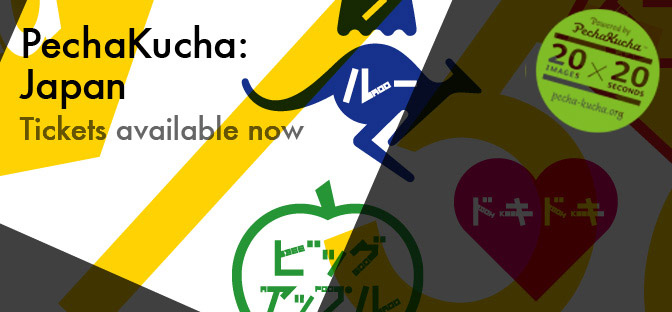 Just over a year after the tsunami sent shockwaves through a country and around the world, we're putting together a collection of the design and communication world's greatest stars to share stories about Japan.
We want to hear about their visits, their projects, the influence of Japan on their work, and why it's a place like no other.
The format is the now world-famous 20×20 PechaKucha, invented by superstar architects Klein Dytham. Each speaker has 20 slides, each slide lasts 20 seconds. 6 minutes, 40 seconds, then it's over. The ultimate presentation level playing field.
Our confirmed speakers so far include: Jonathan Barnbrook (Barnbrook), Andy Altmann (Why Not Associates), Fred Deakin (ex-Airside) and Alice Rawsthorn (Design Critic, International Herald Tribune) – and there are more big names still to come. Your host for the evening will be D&AD past-president Michael Johnson (johnson banks) who has spent much of the last decade working on projects in Japan.
Through Creatives Unite for Japan, all profits from the evening will be donated to the ASHINAGA organisation to help provide Japanese orphans with educational and emotional support.
Entrance cost: Non Members : £15. Non Member Students : £10
Date: Wednesday 23 May 2012
Venue: Logan Hall, Institute of Education, Bedford Way, WC1H OAL
E-mail: info@dandad.org
Tel: +44 (0)20 784 0111
Web: http://www.dandad.org
Organiser: D&AD