Playwright Talk: Toshiki Okada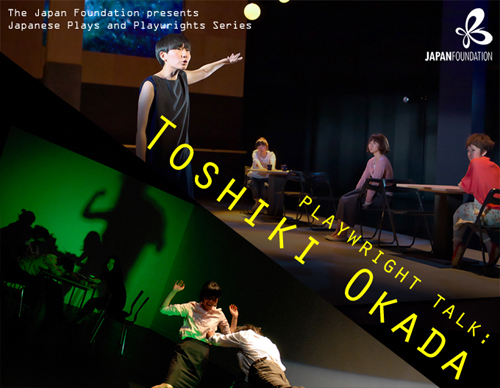 Toshiki Okada, playwright, director and founder of the company chelfitsch, is considered to be one of the most exciting talents of his generation in the world of Japanese theatre. Writing and directing all of chelfitsch's productions, Okada has received awards for his works worldwide, including the prestigious 49th Kishida award for playwrights for his 2004 play Five Days in March, and has become renowned for his stylised productions featuring unique styles of choreography and hyper-colloquial Japanese dialogue, focusing on the concerns of the youth of Japan. More recently, Okada's 2012 play Current Location, an allegorical response to the disaster of 3.11, highlights his passion in tackling social and political subjects in his works.
To mark the presentation of his new play as part of LIFT 2014 programme, the Japan Foundation has invited Toshiki Okada to look back on chelfitsch's productions and his own written works, discussing what he considers to be the meaning of writing and expression. Joined in conversation by Josh Goulding, dramaturg for FellSwoop Theatre, Okada, as a socially conscious writer, will discuss how events such as the Tohoku disaster have made an impact on his work, and contemporary theatre in Japan as a whole.
Date: 12 June 2014 from 6.30pm
Venue: The Japan Foundation, London