Poetry as Dance: Kyomai Inou-ryu Meeting in Britain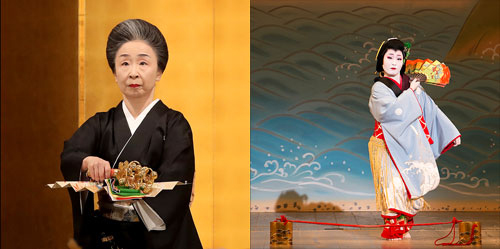 Kyomai is a traditional style of Japanese dance, with its root in 17 Century Imperial Kyoto. Whilst Noh and Kabuki hace achieved fairly widespread recognition and regular performances in Europe, Kyomai is still relatively unknown.
For the first time outside of Japan, designated "National Living Treasure" and master of Kyomai, Yahchi Inoue V, will take to the stage to perform her art. She will be joined by her daughter and apprentice to the art, Yauko Inoue, as they perform a total of three separate dances, each accompanied by shamisen and percussion players. In addition to the dances, the event will begin with a short documentary screening on the history of the art, and close with a talk by the master herself. This is a unique opportunity to see first hand a rare and beautiful dance form outside of Japan.
London:
1 December from 7:30pm
Rudolf Steiner House, 35 Park Road, Hazel Drive, NW1 6XT
Edinburgh:
3 December from 7:00pm
Pleasance One, 60 Pleasance, EH8 9TJ