Professor Munakata's British Museum Adventure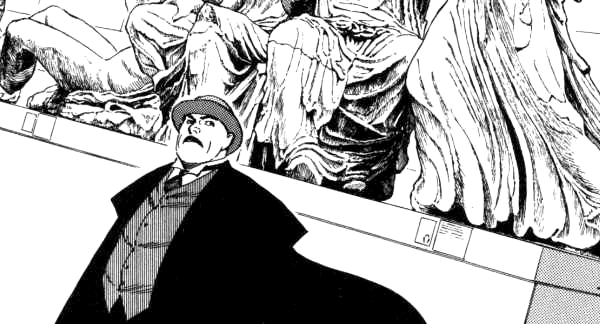 Date: 8 November 2011, 6pm
Venue: Daiwa Foundation Japan House, 13/14 Cornwall Terrace, Outer Circle, London NW1 4QP
Tel: 020 7486 4348
Email: office@dajf.org.uk
Web: http://www.dajf.org.uk
Organiser: The Daiwa Anglo-Japanese Foundation
A unique compilation of ten beautifully drawn manga episodes, Professor Munakata's British Museum Adventure is the latest Professor Munakata story from leading Japanese artist, Hoshino Yukinobu.
Professor Munakata's British Museum Adventure was first conceived when Hoshino Yukinobu attended a small exhibition of his work at the British Museum in 2009. The result of this visit was ten exclusive manga episodes that see Professor Munakata, Hoshino Yukinobu's most famous character, embroiled in a mysterious criminal plot at the museum.
These ten episodes were published to great success in the Japanese magazine Big Comic, last year and now the British Museum Press will be publishing all ten episodes in English for the very first time. The episodes will be published in one beautifully produced volume, making the whole story of the Professor's adventure at the museum accessible to a host of new readers, whilst also maintaining many of the features of a traditional manga, such as reading right to left.
The book will also includes supplementary material, such as an interview with Hoshino Yukinobu and an essay on the history of manga from Tim Clark, the curator of the Japan department at the British Museum.