Re-Framing Their Universe: Japanese Video Art Since 2000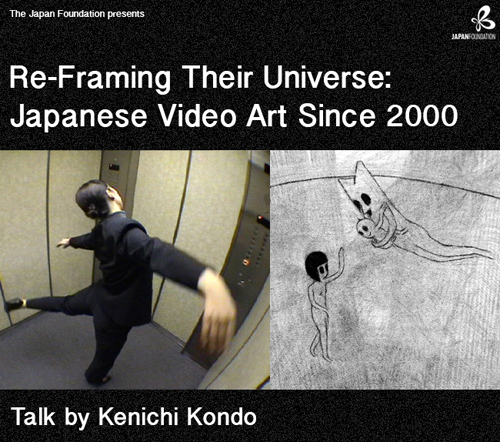 Japanese contemporary video art has become a prominent form of artistic expression in Japan. A medium allowing cutting-edge aesthetics and unique perceptions, video proposes opportunities that have attracted a number of Japanese artists, both established and emerging, even many of those with backgrounds in other artistic practices. Despite the wide range of media available, the past two artists chosen to represent Japan at the Venice Biennale, Tabaimo and Koki Tanaka, both utilise video to express themselves, testament to the increasing importance of the medium in Japan.
In this special talk, The Japan Foundation has invited Kenichi Kondo, curator at Mori Art Museum, Tokyo, an expert who has witnessed this recent trend in Japanese art, who will give an overview the contemporary artist practice with a special focus on video art since 2000. Identifying commonness of this new generation and the recurrent themes and concepts represented in their work, Kondo will explore the issues existing in the use of video as a means of expression and what future it holds, showcasing artists in Japan such as Koki Tanaka, Naoyuki Tsuji and Mariko Tomomasa, all of whom employ the medium in different ways.
Following the talk, Kenichi Kondo will be joined in conversation by Dr Marcus Verhagen, Sotheby's Institute of Art.
Date: 14 November 2013 from 6.30pm
Venue: The Japan Foundation, London