Rebuilding Together – The Ishinomaki Children's Newspaper Translation Project 2014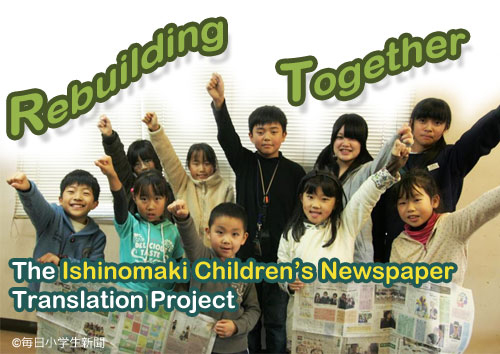 Ishinomaki is a city in Japan's Miyagi Prefecture, and is one of the areas that suffered severe damage due to the Great East Japan earthquake and tsunami on March 11, 2011. Exactly one year later, the children of Ishinomaki published Ishinomaki Hibi Kodomo Shinbun; a newspaper created by the children that reports the current activities in their city. In March 2013, for the third anniversary of the disaster, the children told Ishinomaki's story to people all over the world – by translating selected articles into English, with the help of UK-based volunteers who speak both Japanese and English (the results can be seen here). The project was so successful that it is running again this May!
We are looking for individuals who can help to translate Ishinomaki Hibi Kodomo Shinbun from Japanese into English. We particularly encourage intermediate and advanced-level Japanese language learners. On May 10th 2014, we are holding a workshop where volunteers will be able to speak directly to the people of Ishinomaki via the internet, which will give you the opportunity to learn more about how Ishinomaki was affected by the March 11 disaster, its current effort towards recovery, and the activities of the young journalists themselves. Your translation of the newspaper will be published online, so that readers worldwide can learn about Ishinomaki and its progress.
Date: 10 May 2014 from 10.00am
Venue: The Japan Foundation, London