Rescuing Archaeology and Culture: Assessing the Impact of the March 2011 Disaster on Cultural Heritage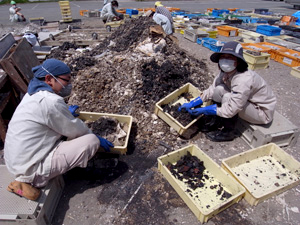 Date: Wednesday 26 October, 6.30pm
Venue: Embassy of Japan, 101-104 Piccadilly, London, W1J 7JT
Booking Essential: Email the Embassy of Japan bunkazai@ld.mofa.go.jp to book a place for this event.
The Great East Japan Earthquake and Tsunami of 11 March 2011 caused destruction and devastation on a massive scale: close to 20,000 people were killed or are missing, over 110,000 homes were destroyed, and thousands of people have been displaced or are homeless. As well as the overwhelming human loss, the disaster had a massive impact on the cultural heritage of the affected region.
The Pacific coast of the Tohoku region is home to a rich variety of unique and vulnerable cultural assets, including archaeological sites, museums, landscapes, and of course artists and a wide range of specialists and practitioners involved in the cultural industries and heritage. The Agency for Cultural Affairs reports that over 700 designated cultural properties, ranging from artworks to archaeological sites, were affected. Museums and other cultural facilities were destroyed.
Dr Akira Matsui is Professor at Kyoto University and Nara National Cultural Properties Research Institute.
Lisa Hammond is a Studio Potter.
Dr Akira Matsuda is Lecturer in Japanese Artistic Heritage at University of East Anglia.
Moderator: Dr Simon Kaner is Head of Centre for Archaeology and Heritage at the Sainsbury Institute and Director of the Centre for Japanese Studies at University of East Anglia.