Restaurant Tour 16: Cah-Chi Korean Restaurant in Raynes Park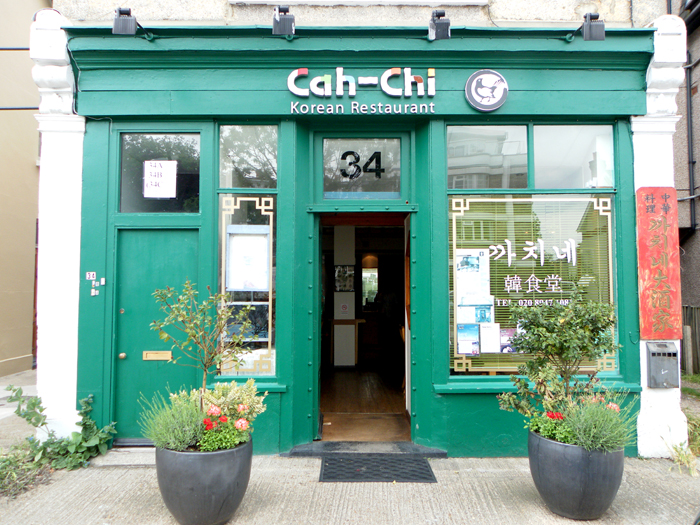 When the Wimbledon tennis season arrives there is one particular Korean restaurant that is busier than ever. Located near Wimbledon, Cah-Chi offers various Korean dishes such as Bulgogi, Galbi and Ojinguh-bokggeum. It is not rare to see famous football players from Premier league teams including Chelsea and Tottenham, at this site. Such acclaim has led to Cah-chi becoming one of the best restaurants for special occasions.
Cah-chi first opened in Tottenham Court Road in 1990, and moved to Wimbledon soon after. During the 90s most Korean restaurants struggled to find the suitable ingredients and chose to create a fusion dish. However Cah-chi was one of the first to provide proper traditional Korean food to the customers, and soon it became famous for authentic dishes such as Soondae (stuffed pork intestines), Gobchang jeonggol (small intestines casserole), Altang (fish roe soup) and Sunji-guk (cow blood soup). Cah-chi became known as an authentic Korean food restaurant, attracting customers from all over London.
It was near impossible to make Soondae (stuffed pork intestines) in London during the 1990s, as it was impossible to find pig's blood and intestines. However the owner, Mr. Jeong, came across a similar dish in a Chinese restaurant and managed to get locate it, then mixing it with vegetables and rice, he stuffed it into sausage skin, creating the Korean Soondae. At the time, many thought that it could only be passing rumour that Cah-chi had actually managed to recreate the Soondae in London.
Cah-chi's owner Mr. Duk Hwan Jeong started cooking in Daegu, South Korea, and worked in the Middle East as a chef before settling in the U.K.. With over forty years experience, he is still committed to developing new recipes. He is passionate about recreating Korean food in London, with his most recent developments being the Andong-JJimdak (Chicken stew, a delicacy from the Andong region in Korea) and Haemul-ddeokjjim (Seafood and rice cake stew), both which have been made after his personal tasting of the original in Korea.
Cah-chi's Londoner patrons wished that these Korean traditional dishes be recommended to the greater public. Besides the well known dishes such as Bulgogi (marinated shredded beef), Galbi (marinated beef ribs) and Kimchi (pickled spicy cabbage), the self-acclaimed 'manias' of Cah-chi are now enjoying the less well known Soondae, "it's a lot like the Scottish Haggis" and the spicy Haemul-ddeokjjum with white wine.
Cah-chi has managed to capture the tastebuds of foreigners with authentic Korean dishes such as Soondae and Haemul-ddeokjjim. There cannot be a greater level of 'globalisation of Korean food' than this.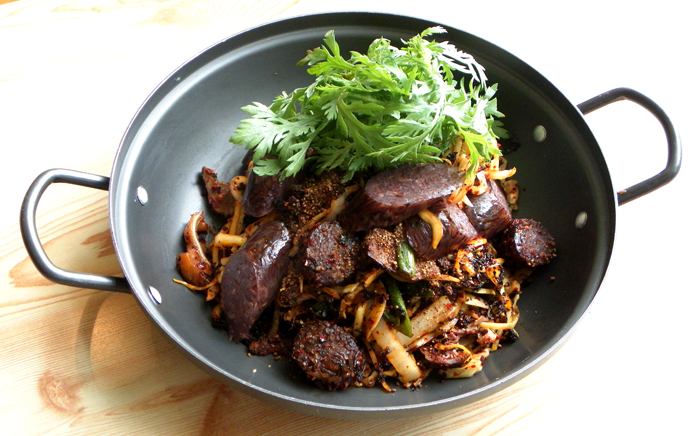 Tea with Cah-chi's owner, Mr. Duk Hwan Jung
Q. It is especially impressive that you've managed to create Soondae (stuffed pork intestines) in England.
A. After opening the restaurant I had the opportunity to visit a Chinese restaurant, and during the meal I found an ingredient that looked very similar to the Korean seonji (cow's blood). I asked them for some samples and was able to get my hands on some pig's blood. Whilst looking for an alternative to pig's intestines, which I could not find, I chose to use sausage skin instead, and stuffed it with a mix of pig's blood, vegetables and glutinous rice. It took a lot of trial and error until I was able to make proper Soondae.
Q. What difficulties are you faced with when developing new recipes?
A. I mostly work with ingredients that are in season so there is no difficulty. When I first made Altang (fish roe soup) twenty years ago, it was only on the menu when cod roe was easily available, and similarly, Gobchang jeonggol was only put on the menu because cow small intestines were easy to find. I'm not going to try and make Korean food which requires ingredients that cannot be found in England. That's unnecessary greed, and I have none of that when it comes to food.
Q. Your family is said to have taken over the Korean food industry in London.
A. When my wife and I first opened the restaurant, we had many difficulties because of the language barrier. Our children naturally took to the task of translating for us, and helped in the restaurant also. Through this experience they learnt many of the know-hows in managing a restaurant, and they went on to opening restaurants themselves also. My daughter is running 'Little Cah-chi' in London and my son runs 'Hashi', a Japanese restaurant, next to Cah-chi.
Location
Cah-chi is situated in the South of London, near Wimbledon and the 'Korean town', New Malden. It is approximately 20 minutes away from Waterloo (by train) and a 3 minute walk from Raynes Park station. It is especially busy during the Wimbledon tennis season, but on most days it is crucial that you book beforehand for seats.
Cah-Chi popular menu
Soondae (stuffed pork intestines)
Soondae bokggeum (stir fried stuffed pork intestines in spicy sauce)
Gobchang jeonggol (small intestines casserole)
Altang (fish roe soup)
Address
34 Durham Road, Raynes Park, London, SW20 0TW
Opening times
Monday: Closed
Tues-Fri: 12:00-23:00
Sat-Sun: 12:00-15:00, 18:00-23:00
Reported by Bada Kim (bada@theeast.org)