Restaurant Tour 21: Jingogae restaurant in New Malden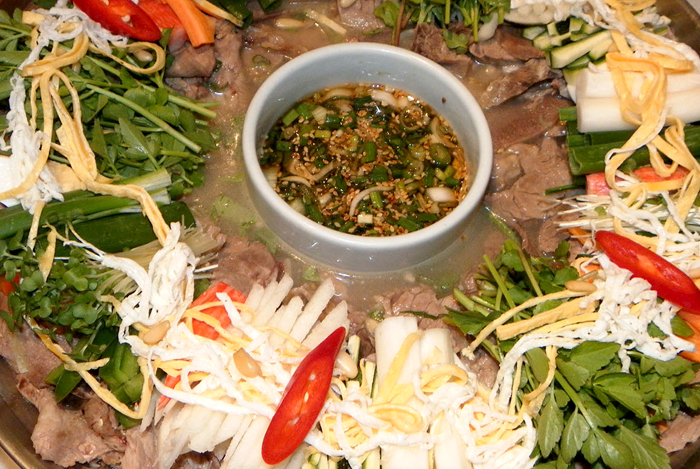 It isn't easy to bring a charcoal fire to a table of non – Korean customers in England. To engage those to the unusual sight there has to be an absolute attraction factor in the taste. There is one place in London that has captured both the people's sight and tastebuds and stands as the ultimate leader in the 'Korean Table Barbeque' cuisine – Jingogae.
Jingogae restaurant's owner Mr. Young-Gu Cho recreated the Korean Galbi in London with all its authenticity intact. Personally hand-picking only the best meat for the Galbi and importing coal from Eastern Europe for the traditional taste, he even bought a patch of land in order to grow the Korean vegetables to use as ingredients. Such professionalism is what has driven Jingogae succession into the most renowned Sootbool Galbi restaurant in the U.K., only 3 years after opening its doors.
Cho's previous experiences in cooking counts to almost forty years, but his own restaurant holds a much shorter history of 3 years. He is one of the first cooks to settle in the U.K., and has served a long time in a Japanese Airline, preparing dishes for both Business and First Class users.
His knife-work in producing the best Galbi is well known even between cooks, and he produces all Galbi for the Annual Korean Festival held in England. Jingogae's infamous Soot-bool Galbi is a result of Cho's continuous work: spanning over thirty years, stretching over 2 countries, Korea and England.
Galbi cooked on coal is a well known specialty and the Korean traditional court dish 'Eobuk Jaengban' is also a bestseller. The Eobuk Jaengban is a delicate mix of good lean meat with vegetables and plenty of seafood. The stock for this dish is absolutely divine and the special dipping sauce creates a somewhat unusual but an absolutely irresistible taste as all the ingredients come together.
The Yangnyeom Gejang is also a favourite, made only from live female crab, hand-picked by Cho at the early morning markets. The sauce is a Jingogae special and as this is a dish made completely by Cho using only the freshest of ingredients; it isn't always on the menu.
There are often queues to be found on weekends, where customers stand outside the restaurant – and they are enjoying the smell of good Galbi being cooked on the barbeque. A customer commented: "Waiting's part of the fun. Smell that sauce in the air and tell me that you're not tempted." And he's right. Nobody's complaining.
Directions to Jingogae
Jingogae restaurant is situated between the well-known Korean town New Malden and the world famous Wimbledon. It stands next to the A3, making it easy access from any area in England. As a superstore is conveniently placed opposite the restaurant, Jingogae is a favourite to locals as a stop point after shopping. The odd sight of meat being cooked on the table draws much attention from locals and it is them who have named this the 'Korean Table Barbeque'.
The interior of the restaurant captures the ambience of Korea through its traditional 'Han-ok' style walls and the cozy atmosphere of the larger concession rooms is also one of Jingogae's many attractions.
Jingogae Popular Menu
Galbi
Eobuk Jaengban
Yangnyeom Gejang
Opening Hours
Mon – Fri: 1200-1500, 1730-2300
Sat: 1200-2300
Sun: 1700-2300
(Interview) Tea with owner Young-Gu Cho
Q. Why do you personally shop all meat, fish and vegetables from the markets?
A. I am at early morning markets about 5 days out of the 7 in a week. I could of course leave this to delivering salespersons but it isn't easy to find the ingredients for Jingogae's unique dishes so I prefer to be there in person to pick the ingredients out. For example, the Yangnyeom Gejang is made only from live female crab, and not only does the size of the crab be taken into consideration, but for a uniform taste in the food, the ingredients all need to be at a same standard – in taste and in freshness. I speak confidently from experience that the best can only be found by one personally looking around the markets.
Q. Considering your arrival date at England, you opened your own restaurant, as some would say, late. Were there any specific reasons?
A. I've cooked in Korean restaurants and a Japanese Airline during the time gap you mentioned. It seemed to me that Korean food in England shared very similar dishes and lacked a certain distinguishing factor between the restaurants. I wished to open a restaurant that had a specialty that any person would think of first when a dish was mentioned. This is the primary reason for the late opening. However there were other aspects, such as the limitations of the ingredients that can be found on English soil and if any was to be imported, how reliable the route may be for a dish to be put on the menu. I wanted to have solutions to all possible problems that could arise – and this resulted in a later independent opening of Jingogae.
Q. Will we be able to taste Jingogae's infamous Sootbool Galbi for a long time to come?
A. There are no problems in getting hold of the coal that I am currently receiving from Eastern Europe and I hand-pick the best meat for our Galbi. I intend to continue servicing this way until customers complain about bad taste. I will always be cooking.
Reported by Bada Kim (bada@theeast.org)