Ryoanji Garden as the Epitome of Zen Culture: The Process of Transnational Canon Formation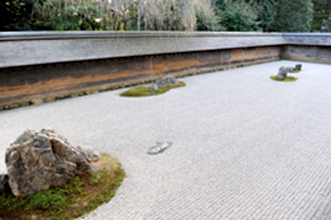 The stone and sand garden of Ryoanji temple in Kyoto is now usually regarded as the greatest Zen monument, expressing the essence of Zen culture. However, this canonic status was argued only since about the 1930s and initially within a transnational modernist milieu. Mirei Shigemori, a friend of Isamu Noguchi, in Japan and Lorraine Kuck in USA/Hawaii both contributed greatly to push Ryoanji garden into the canonic icon of not only Japanese garden art but also of Zen culture per se. This lecture will examine this process.
Toshio Watanabe is Professor at the University of the Arts London and the Director of the Research Centre for Transnational Art, Identity and Nation (TrAIN). His publications include High Victorian Japonisme (1991, winner of the Prize of the Society for the Study of Japonisme), Japan and Britain: An Aesthetic Dialogue 1850-1930 (1991), and Ruskin in Japan 1890-1940: Nature for art, art for life, (1997, winner of Japan Festival Prize and of Gesner Gold Award). He was President of the Japan Art History Forum (USA), Chair of the Association of Art Historians and member of the Tate Britain Council.
Date: 4 December 2012, 17:30
Venue: The Courtauld Institute of Art, Somerset House, Strand, London WC2R 0RN
E-mail: researchforum@courtauld.ac.uk
Web: http://www.courtauld.ac.uk/researchforum/dec04_FrankDavislLecture.shtml
Organiser: The Courtauld Institute of Art