Ryoko Izitsu (piano) with Deborah Aloba (mezzo-soprano) and Juwon Ogungbe (baritone)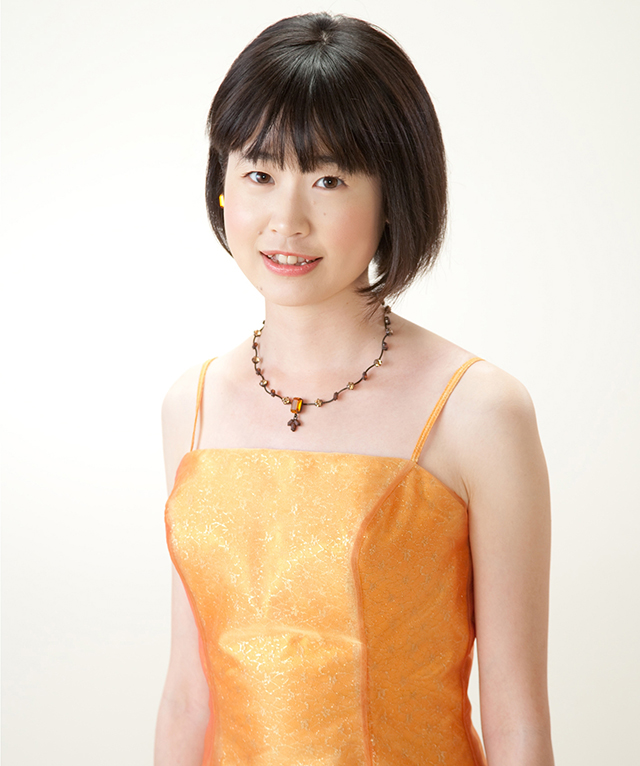 Programme:
1. DUET: Per Queste Tue Manine – Mozart, from Don Giovanni
2. SOLO: Il Vecchiotto Cerca Moglie – Rossini, from The Barber of Seville
3. DUET: Oh Che Muso, Che Figura – Rossini, from The Italian Girl in Algiers
4. SOLO: Deh Pietoso, Oh Addolorata – Verdi, from Composizioni Da Camera
5. DUET: Allor, Questa Voce – Verdi, from Macbeth
6. SOLO: Quando Men Vo – Puccini, from La Boheme
7. DUET: Bei Mannern – Mozart, from The Magic Flute
8. SOLO: Madrilena Bonita – Sorozabal, from La Del Manojo De Rosas
9. SOLO: Song To The Moon – Dvorak, from Rusalka
10. DUET: I Want To See My Child – Joplin, from Treemonisha
11. SOLO: My Curly Headed Baby – Clutsam
12. SOLO: My Man's Gone Now – Gershwin, from Porgy And Bess
13. SOLO: There's A Boat That's Leaving Soon For New York – Gershwin, from Porgy And Bess
14. DUET: Bess, You Is My Woman Now – Gershwin, from Porgy And Bess?
Artist info:
Ryoko Izutsu was born in Kobe, Japan, surrounded by beautiful mountains and sea.
She graduated top of her year from Osaka College of Music before falling victim to a repetitive strain injury. However, the injury proved a blessing in disguise when she discovered the Alexander Technique. After studying with Lucas Lorenzi and Junko Kasahara in Kyoto for three years, she completely cured herself, as well as realising the expressive potential that Alexander Technique can give her as a musician. She moved to the UK to study at the Guildhall with Nelly Ben-Or, the recognised master of both Alexander Technique and piano performance and completed her post-graduate course in 2011.
She was chosen for the competitive Top Graduates Concert by Osaka College of Music, and performed in the prestigious "Group Young Tone" concert series several times. She has appeared as a professional in the Naniwa Art Festival, the Osaka Artist Association concert series, and the Kyoto International Music Maestro concert series. She was invited to perform for Nelly Ben-or Trust several times. At the Guildhall school of Music & Drama, she had a fantastic opportunity to take part in Faure Master class given by Roy Howat.
On top of a varied performance schedule in venues throughout her native Japan she enjoys taking part in charity concerts for the aged, for children, and for the less fortunate. She most enjoys introducing the joy of classical music to those who are new to it.
Deborah Aloba is a Dramatic Mezzo Soprano who trained at Goldsmith University. She has sung the roles of Carmen, Second and Third Lady in the Magic Flute, Azucena in Il Trovatore, Santuzza in Cavalleria Rusticana, Delilah in Samson and Delilah, Dorabella in Cosi Fan Tutte, Eboli in Don Carlos, Prince Orlofsky in Die Fledermaus, The Mother in Treemonisha, The Mother in Amahl and the Night Visitors, Berta in The Barber of Seville, and Amneris in Aida with various companies to include The Latvian National Opera Company, The Spoletto Festival, UNC Opera, Sadlers Wells, and Vision Voices Community Opera. Deborah has been the Project Co-Ordinator for Vision Voices Community Opera a dynamic fun group producing full length operas for 13 years. She has also appeared in Fat Boy Slim's video Get Naked, on various CBBC programmes, in "Da Genie in the House" (Nickleodeon) All Star Mr and Mrs and recently was filmed in a Bollywood Movie. Deborah has sung in numerous recitals and she also sings Jazz and Blues. She is also a vocal coach and is passionate about releasing voices.
Juwon Ogungbe is a multifaceted singer, musician and composer. His singing career encompasses Opera, Recitals, Oratorio, Jazz, African music and many other genres.
Juwon's repertoire of roles includes Don Alfonso (Mozart's Cosi Fan Tutte), Escamillo (Bizet's Carmen), Alfio (Mascagni's Cavalleria Rusticana), Macbeth (Verdi's Macbeth), Aeneas (Purcell's Dido and Aeneas) Shaunard, Colline, Benoit and Alcindoro (Puccini's La Boheme) and most recently, Amonasro (Verdi's Aida).
Apart from his career in opera, Juwon has composed many music theatre works, dealing with contemporary African themes, which he has performed in. He also leads The Vocal Ensemble of Africa — a group that comprises singers from several African countries that perform Juwon's compositions, also extemporising in their mother tongues in featured moments.
In 2009 Juwon composed and performed in "Time and the Trickster's Heart" — an oratorio commissioned by The London Lucumi Choir. This piece morphed into a dance cantata, when the choir and Juwon joined forces with Union Dance for several performances.
In 2012, Juwon led a music theatre ensemble in Zimbabwe that staged a highly successful production of his music theatre adaptation of Shakespeare's "Merchant of Venice", in which he sang the role of Shylock. In the same year he was an international visiting scholar in the Department of Theatre and Dance at the University of Richmond, Virginia U.S.A and he released his debut album "Life Force Music": available in CD format and on all reputable online outlets as digital downloads.
Date: Wed Oct 9th 2013, 1:10–2:00 pm
Venue: St. Sepulchre, the Musicians Church, Holborn Viaduct, London EC1A 2DG
Organiser: The Anglo-Japanese Society of Wessex