Sayaka Nakajima – violin with Mutian Xu – piano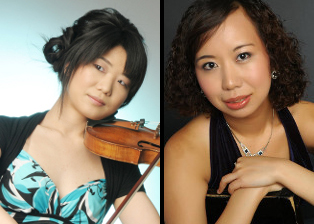 Programme:
Violin solo – Sayaka Nakajima:
1. J.S.Bach: "Prelude" from Partita No. 3 E-Major for Violin Solo BWV 1006 (3-4min)
2. E. Ysaÿe: "Obsession" from Sonata for Violin Solo a-minor op. 27 No. 2 (3min)
3. H.I.F. Biber: "Passacaglia" from Mystery-Sonate No. 16 g-minor (9min)
Piano solo – Mutian Xu
Claude Debussy – Estampes:
a) Pagodes (Pagodas)
b) La soirée dans Grenade (The Evening in Granada)
c) Jardins sous la pluie (Gardens under the Rain)
Sayaka and Mutian duo – Japanese folk tunes
Artist info:
Sayaka Nakajima was born in Japan in 1986 and started to play the violin at the age of five, studying with Angela Eto. She gave her first public performance in the Hiroko Nakamura Invitational Concert 92' at the age of eight, and was the finalist of the Toshiya Eto Violin Competition for Junior artists. In 2005, she entered the Toho Gakuen School of Music where she continued studying with Angela Eto.
In 2007, she entered the Royal Northern College of Music Undergraduate course with the help of the Entrance Award, where she studied with Prof. Yair Kless. During her study at the Royal Northern College of Music, she was awarded the Cowen Prize, the Nossek Prize, the John Barbirolli / Laurence Turner Memorial Prize for String Quartet and the John Webster Memorial Prize. She gained her Bachelor of Music with Honors in July 2011.
From October 2011 she has been studying at the Würzburg Musikhochschule in Germany with Prof. Sören Uhde.
As a soloist and chamber musician she performed at numerous venues, such as Bridgewater hall lunchtime concert, Leicester Music Festival, Aigues-Vives en Musiques Festival (France), Hochschulpodium Bayerisches Kammerorchester Bad Brückenau (Germany). She is also an experienced orchestral player and has been taking part in the BBC professional experience scheme in 2009-2010 and the St. Luke's Academy in 2010 with the London Symphony Orchestra. She is currently a member of Andechser ORFF®-Akademie des Münchner Rundfunkorchesters (Radio-orchestra Munich) 2013.
Mutian Xu was born in China in 1985 and moved to Japan in 1994. Mutian completed her Bachelor of Music (Honours) with a distinction in piano solo performance at the Royal Northern College of Music in 2008, and obtained Master of Music degree at the RNCM in 2009. She studied piano with Paul Janes. She made success in competitions including finalist in the Machida Piano Competition (Tokyo) in 2001, and High Schools Association Piano Competition (Kanagawa) in 2002. In 2007, Mutian and her duo partner Carla won the first prize in the wind and percussion duo competition (Manchester); Mutian won the PJ Forbes prize for best pianist.
Mutian attended the Castelfranc Piano Summer School with Scholarship in 2007, 2008 and 2009, where she performed in the final concerts and also performed Schumann piano concerto Op. 54 in A minor. She studied with Paul Roberts, Ian Brown, Harold Gray and Robert Durso. Mutian played in master classes and lessons given by Philippe Cassard, Alexander Melnikov, Nelson Goerner, Anton Voigt, Thomas Kreuzberger, Pawel Skrzypek and Stefano Fiuzzi. As a piano accompanist, Mutian participated in masterclasses by Julius Drake, Barbara Robotham, Ralph Kirshbaum, Karine Georgian, Yair Kless, Jan Repko, and Ivry Gitlis.
Mutian gave solo recitals in Manchester, Castres and Miribel in France, Tokyo and Kanagawa in Japan. In 2008, Mutian was invited by Jazz pianist David Nelson to give a solo recital in the Hebden Bridge Arts Festival. She also made her solo debut in the Ebina concert hall, Kanagawa Japan. In the same year, Mutian and her colleagues established a chamber music group "Northern Horizons" which toured Europe and Asia made success in England, Portugal, Singapore, Malaysia, South Korea and Japan. In 2009, Mutian performed Three pieces for Clarinet and Piano in the Detlev Glanert festival and worked with the composer.
Mutian worked with students from the Royal Northern College of Music, Junior RNCM, and Chetham's School of Music. She accompanied in the BBC young musician of the year competition, auditions for orchestra including the Halle orchestra, BBC philharmonic, Manchester Camerata and Liverpool philharmonic. She also played with Lancashire Youth Symphony Orchestra. Mutian currently works in a prestigious private school in Kent as a piano teacher, and she gives concerts and recitals with her trio 'Haru Piano Trio' which won the chamber music category in the Ealing Music Festival in May 2013.
Date: Wed Jul 31st 2013, 1:10–2:00 pm
Venue: St. Sepulchre, the Musicians Church, Holborn Viaduct, London EC1A 2DG
Organiser: The Anglo-Japanese Society of Wessex