Setsuko Ono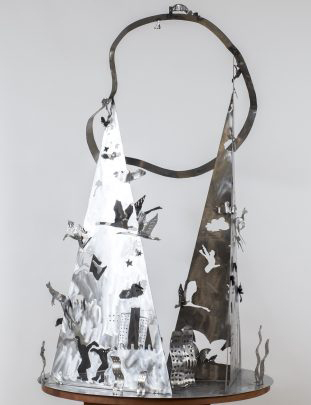 In 2018 Japanese artist Setsuko Ono will bring her work to London for the first time, with two consecutive solo exhibitions.
Ono creates steel sculptures characterised by their cut-out shapes, forming open and closed figures and designs. The cut-out silhouettes are bent in an animated way, while the cut-out negatives let sunlight and views of nature through. These delicate sculptures are created from sheets of steel welded by Ono herself.
Inspired by meeting her musical hero John Cage as a teenager, and watching his silent performance 4'33", the artist works with little in the way of planning, detailed blueprints or preliminary drawings. Setsuko Ono's recent work also includes mixed media paintings that reflect her interest in international politics.
Ono's exhibition at the Daiwa Anglo-Japanese Foundation in February will be followed by a show at Asia House in March 2018. Both London exhibitions will include sculpture and mixed media paintings, and visitors will be able to use virtual reality goggles to experience Ono's permanent installations in Japan – in Shinagawa, Tokyo, and at Hara Museum ARC in Shibukawa, Gunma Prefecture.
Date: 16 February – 9 March 2018
Venue: Daiwa Foundation Japan House, 13/14 Cornwall Terrace, London NW1 4QP UK
Tel: 020 7486 4348 Fax: 020 7486 2914
Email: office@dajf.org.uk
Web: www.dajf.org.uk
Organiser: Daiwa Anglo-Japanese Foundation