Seung Ae Lee: Becoming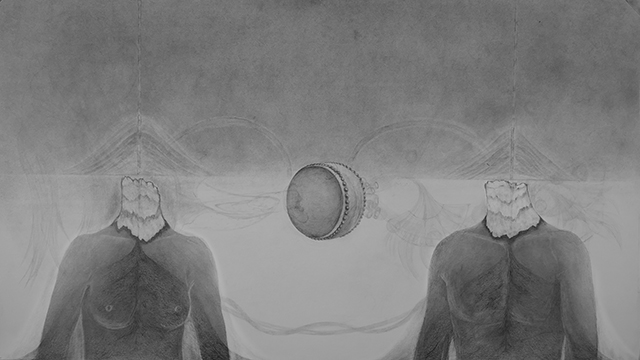 Date: 8 March – 7 April 2018
Venue: Korean Cultural Centre UK
As part of the Korea/UK Season, the Korean Cultural Centre UK (KCCUK) presents the solo exhibition of Seung Ae Lee (b. 1979), acclaimed for her meticulously detailed pencil drawings, from 8 March to 7 April 2018 (Preview: 7 March). The exhibition focuses on Lee's trademark drawing animations that explore the relationships between the drawn line, the imaginative transformation and the moving image.
Lee's drawing animations are a series of spontaneous pencil drawings that repeat the process of erasing and redrawing on paper, continuously leaving traces of the previous stage. Each stage transforms into the next, with the new movement (or drawing) inspired by the previous stage. Lee's drawings, developed through autonomous ideas and movements, often depict segregated parts of the body, natural organisms and nostalgic items. The sound effects of percussions complement the visual imagery – and at the same time, the drawings also visually respond to sounds as the percussion becomes the subject of depiction.
The exhibition features Lee's iconic work, Becoming (2017), a 10 minute long animation, installed as a large scale projection that fills the entire wall of the exhibition space. The work represents moments of metamorphosis, where there is a continuous flux between different states, eventually transforming the familiar object into an alien form. The inappropriate and the unacceptable are constantly called into play, challenging our perceptions and understanding of the world.
Lee's other major drawing animation, A Cabinet (2017), is also presented in the exhibition as an installation, where the projected images are reflected on the surface of a shallow pool, creating an effect of a 'dual' screen. Her previous animations, A Frog (2016) and A Bird (2015), also feature as part of the exhibition.
Seung Ae Lee was born in 1979 in Seoul. She graduated from Sungshin Women's University, Seoul, with a BA in Painting and attained an MA in Painting from the Royal College of Art in 2016. Lee's work has been exhibited at various international venues, including Marlborough Fine Art, London (2017, Anima mundi 2017 International Art Festival, Venice (2017), The Fourth Guangzhou Triennial (2012), Doosan Art Gallery, New York (2011) Ilmin Museum of Art, Seoul (2009) and the Seoul Museum of Art, Seoul (2009). In 2005, she was represented at Art Basel by Gallery Hyundai. Lee's previous group exhibition Ultra Skin in 2009 at Coreana Museum of Art, Seoul, was featured on MBC Nationwide TV News, Korea. Her works also were selected by the Google Cultural Institute as part of the online Google Arts & Culture in 2009. In 2016, she was the winner of the Valerie Beston Artists' Trust Prize, London, and in 2013, she was awarded the Gucci Young Artist Grant, Seoul.