Silence is Golden? Classroom Silence in Universities in Japan and the UK – Challenges and Strategies in Cross-cultural Education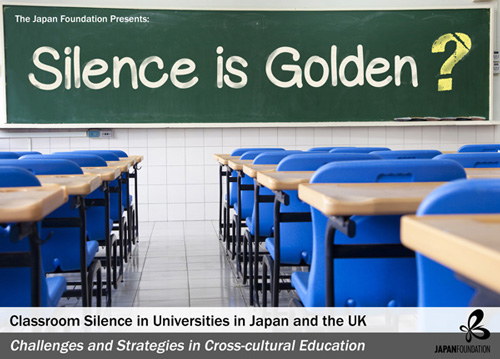 As Japan and the UK continue to make strides to globalise their university campuses, leading to increasingly culturally diverse classrooms, understanding factors which could lead to communication problems between teachers and students is of increasing importance.
In this seminar Dr Jim King, Lecturer in Education at the University of Leicester, will focus on one aspect of student behaviour which is considered to be particularly prevalent in the Japanese classroom – silence. Silence does not always merely represent an absence of noise, but can carry different meanings and have various functions, which, particularly in intercultural contexts, can often be misunderstood or misinterpreted. Dr King will discuss his recent Japan Foundation sponsored investigation into silence in second language and mainstream university settings in Japan and in the UK. While his research offers useful guidance for non-Japanese educators who would like to better navigate the silences of Japanese students, it also uncovers some surprising similarities in how UK and Japanese students react to classroom silence, providing important lessons in not making assumptions about student behaviour based purely on cultural trends.
Following his talk, Dr King will be joined in conversation by second language acquisition expert Dr Kazuya Saito (Birkbeck, University of London), to continue to explore other communication related challenges occurring within cross-cultural teaching in the UK and Japan, and to take a practical look at how to better meet the different learning and teaching needs of Japanese and other international students within culturally diverse university classrooms, particularly foreign language settings.
Date: 16 November 2016 from 6.30pm
Venue: Central London, TBC