Sir Alfred East (1844-1913): A Centenary Talk – Paul Johnson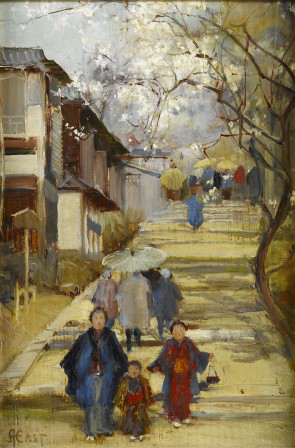 Light refreshments will be provided This talk will cover the career of the landscape painter Alfred East, from shoe manufacturing in the 1860 and 1870s, to President of the Royal Society of British Artists, Royal Academician, Knighthood and the foundation of the Alfred East Art Gallery in Kettering, Northamptonshire.
Drawing on the diaries kept by East and his travelling companions AL Liberty (the founder of Liberty's store) and CH Holme (who was to become the editor of The Studio magazine), the talk will cover his journey to, and 6 months spent in, Japan in 1888-89 sponsored by the Fine Art Society of London. Arriving at Nagasaki, amongst the places he visited were Kobe, Kyoto, Hakone, Yokohama, Tokyo, and Nikko. The talk will cover the attitudes of East and his travelling companions to Japanese art of the period and Hideko Numata's Japanese perspective on his work. It will be illustrated by reproductions of the artist's oils, water colours and etchings portraying the country, its people, its temples, lakes and mountains, its blossom and changing weather.
Completing his journey round the world through North America, East repaid his debt to the Fine Art Society with a very successful exhibition of more than 100 of his pictures on his return in March 1890.
Through the Japan Society, East continued to have contact with Japanese culture, visiting diplomats and the artists whom he welcomed to his Westminster studio. East's involvement in the literary / artistic club the Sette of Odd Volumes and the Japan Society (of which he was a founder member) in the 1890s and early 1900s will be presented from the records of both societies. An avid collector of Japanese prints, drawings, pottery, bronzes and netsuke by the time of his death, East had built up a collection of more than 400 items.
Paul Johnson is the co-author (with Professor Kennneth McConkey) of Alfred East Lyrical Landscape Painter (2009). His father was one of Alfred East's executors in 1913. With a degree in modern history, Johnson qualified as a solicitor and spent his working life in the spheres of public law and administration.
Date: Monday 18 March 2013, 6.45pm
Venue: The Swedenborg Society, 20-21 Bloomsbury Way, London WC1A 2TH
Free – booking recommended