SIRO-A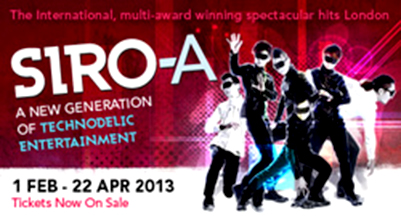 SIRO-A, is an exciting six strong performance group from Sendai, Japan, who have wowed audiences all over the world and are now, for the first time, bringing their unique performance style to London.
The name SIRO-A, derived from the Japanese word 'SIRO' meaning white or colourless, means to belong to no group or impossible to define. And tough to define they are!
Often described as Japan's answer to the Blue Man Group, SIRO-A perfectly fuse modern technology with mime and movement all set to a pulsating electro beat, mixed live every night. Their visually stunning show performed to 30,000 people at the Shanghai Expo, has wowed TED.com audiences in Tokyo and won Mervyn Stutter's "Spirit of the Fringe" award at the Edinburgh Festival 2011.
This is a spectacular piece of family entertainment, fusing video mapping, laser lights and on stage DJ's. It's an interactive, multimedia, physical/dance theatre show combining human body performances with video projection technology and breath-taking optical illusions while SIRO-A flex their finest techno muscle. It's an explosion of light, sight, sound, and movement, seamlessly
Date: 1 February – 22 April 2013
Venue: Leicester Square Theatre, 6 Leicester Place, London
Tel: 08448 733 433
Web: http://www.leicestersquaretheatre.com
Organiser: In association with World Dance management