Special event: Lisa Ueda: Children's Day Recital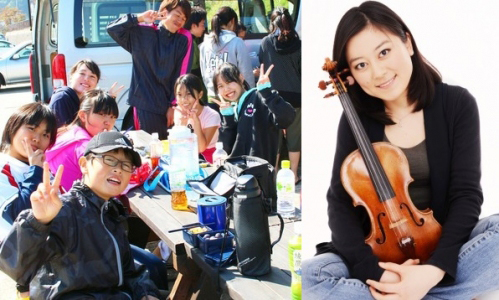 The Daiwa Anglo-Japanese Foundation will host a solo recital by award-winning violinist Ms Lisa Ueda, in aid of the children of Fukushima, who have still been suffering from the effects of the Tohoku earthquake and tsunami disasters. The 5th of May is Kodomo no hi (Children's Day) in Japan, and Lisa also performed at the Foundation on Children's Day in 2011.
Lisa and the Daiwa Foundation would like to ask you to support Academy Camp, a Japanese charity helping and supporting the children of Fukushima to expand their experience of study by taking them to academic camps. GlobalGiving, a crowdfunding service for non-profits around the world, will match 100% all donations to Academy Camp for children in Fukushima and other Tohoku projects while funds remain.
Date: 5 May 2015
Venue: Daiwa Foundation Japan House, 13 – 14 Cornwall Terrace, London NW1 4QP
Tel: 020 7486 4348
Email: office@dajf.org.uk
Web: http://www.dajf.org.uk
Organiser: The Daiwa Anglo-Japanese Foundation