Symposium: Too Kawaii The Power of the Super Cute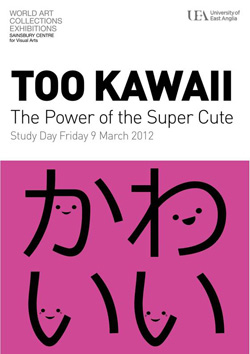 Date: 9 March 2012, 11am – 4:30pm
Venue: Education Studio, Sainsbury Centre for Visual Arts, University of East Anglia, Norwich NR4 7TJ
Tel: 01603 593199
Web: http://www.scva.ac.uk
Admission: £10, £8 concessions (free for students)
Booking: essential, places are limited (please phone 01603 593199)
The Sainsbury Centre for Visual Arts, Japan Foundation, Sainsbury Institute for the Study of Japanese Arts and Cultures, The Centre for Japanese Studies
Join leading experts from Japan and the UK to explore the global phenomena of kawaii or 'cute' on Friday 9 March at the Sainsbury Centre for Visual Arts. The day examines Japan's obsession with 'cute' things and concepts that have come to dominate the Japanese visual culture and increasingly alter Western visual outputs. Find out about the history and visual language of kawaii and how it has influenced the way we view the wider world.
The symposium is free for students.
A collaboration between The Japan Foundation, Sainsbury Centre for Visual Arts, Sainsbury Institute for the Study of Japanese Arts and Cultures and the Centre for Japanese Studies.