Teaching and Learning Japanese at SOAS Past, Present, Future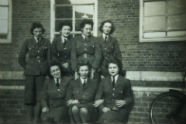 On Thursday 2 June 2016, SOAS will host a free, one-­‐day, event celebrating SOAS's 100th anniversary, as well as the 20th anniversary of the MA in Japanese Applied Linguistics. We look back at the long history of Japanese language programmes at SOAS and present research conducted here by staff and PG students on various aspects of Japanese learning and teaching.
The event is open to all, as an opportunity for an informal and friendly exchange of ideas with staff working in other institutions and in other educational contexts, as well as opportunity for students interested in an UG degree in Japanese or an MA in Japanese applied linguistics to come and discover what we do.
Date: 2 June 2016
Venue: SOAS, University of London, Russell Square, WC1H 0XG
Web: http://www.soas.ac.uk/japankorea/events/02jun2016-teaching-and-learning-japanese-at-soas—past-present-future-celebrating-100-years-of-japa.html
Organiser: SOAS, University of London