'Terracotta Film Club' presents HANSEL and GRETEL at the Prince Charles Cinema on Wednesday 26 June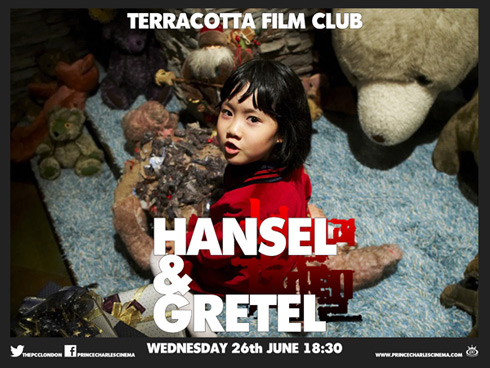 To time with the release of HANSEL & GRETEL: WITCH HUNTERS on DVD, 'Terracotta Film Club' offers the chance to watch the South Korean adaptation of HANSEL AND GRETEL at the cinema.
YIM Phil-sung's twisted version is a dark modern age fairy tale for adults, spinning the original Grimm fairytale on its head.
As for previous editions, the event will run for one night only on Wednesday 26 June at the Prince Charles Cinema in London.
Previous 'Terracotta Film Clubs' of POLICE STORY, LADY SNOWBLOOD and DAYS OF BEING WILD were sold out. And the 5th edition of the Terracotta Far East Film Festival wrapped successfully last week.
This enthusiasm is a real encouragement and Terracotta organisers will pursue their efforts to show Asian films regularly on the big screen throughout the year.
Date: Wednesday 26 June at 6.15pm doors open/ 6.30pm film starts
Venue: Prince Charles Cinema, 7 Leicester Place, London WC2H 7BY
Ticket price: £ 7.50 (Prince Charles cinema members £ 5.00)
Cast: CHUN Jeong-myoung, EUN Won-jae, SHIM Eun-kyoung, JIN Ji-hee
Director: YIM Phil-sung
Runtime: 116 min. / Cert.15 / Dark Fantasy / 2007
Country: South Korea, Korean language with English subtitles.
More Information: Event Page
Synopsis:
A sinister house deep in the forest is full of happy children… But what lies beneath the surface?
A dark and gripping modern age fairy tale for adults, spinning the original Grimm fairytale on its head. Following a car crash on a country road, Eun-soo (Chun Jeong-myeong) is led to safety by a girl in a red cloak (Shim Eun-kyoung), to her house, deep in the forest. Accepting her family's hospitality for the night, he gradually learns that he is trapped in the woods with this strange picture perfect family and of the sinister story behind the seemingly innocent smiles of the children …
"as unsettling to watch as it is gorgeous to look at" – Evening Standard
"Lavish cinematography makes this K-horror a ravishingly kitsch watch and the child actors are fabulously creepy." – Metro