The Abe Government, Freedom of Speech and the Issue of War Apology with Professor Arthur Stockwin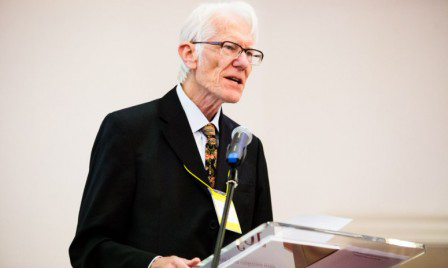 The central argument of this presentation is that with the election of the government headed by Mr Abe Shinzō in December 2012, the character of Japanese politics has changed in ways that may be considered fundamental.
The Abe administration ended a little over three years of government led by the Democratic Party of Japan (DPJ), which after early promise had collapsed in disarray. The DPJ government, however, was significant because it had interrupted a previously near total monopoly of power at national level by the Liberal Democratic Party (LDP), whose tenure of office since it was founded in 1955 had been permanent, except for a brief interval in the early 1990s. The return to office of the LDP in 2012 was not a return simply to 'business as usual'. For reasons that I shall explain, the LDP since the 1990s had become far more united, and the power of an LDP prime minister a good deal more powerful, than used to be the case. Moreover, the party was now united around a leader, and around policies, of the hard right. Much of his popularity has rested on the promise of economic revival, dubbed 'Abenomics'. The Abe government faces an opposition that is currently weak and divided.
Mr Abe is an able political leader, who has learned much about the nature of political control in the course of his career. He is also what I shall call a 'nostalgic nationalist', determined to rewrite history in favour of a positive version of Japanese modern history, including the period of the Asia-Pacific War that ended in 1945. His instincts veer towards the authoritarian, especially in relation to media freedoms.
In the course of this lecture, I shall examine two contentious issues that have marked his period in office: the Designated Secrets Law of 2013 and the issue of war apology. I shall touch on other issues more briefly, and offer a view on how far we should regard the shift to the right in Japan as causally similar to rightward trends in other comparable countries.
Date: Monday 21 November 2016, 6.45pm
Venue: The Swedenborg Society, 20-21 Bloomsbury Way, London WC1A 2TH