The Ceramics of North-East Japan – David Hale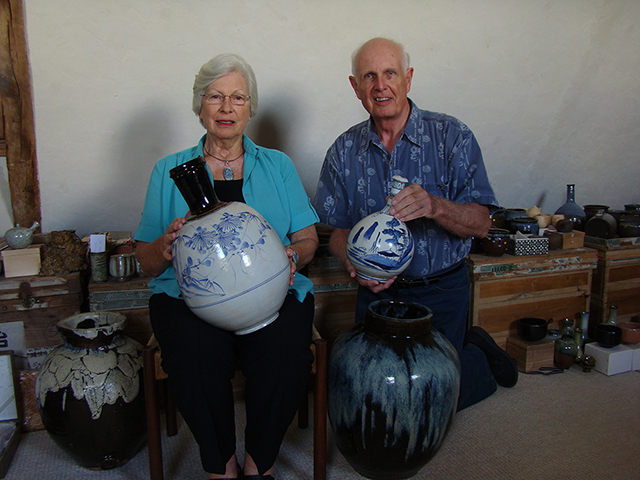 In this illustrated lecture, collector David Hale will give an overview of the contemporary and historical ceramics of the Tohoku region, a subject on which his book, Ceramics of North-east Japan, remains the sole work.
After taking up his wife Anne's hobby of pottery making at the local Tsutsumi kiln, Hale became fascinated by the ceramics of the Tohoku region and began to research contemporary pottery (1966 – 72) and historical examples of local ceramics. Gradually the Hales acquired a collection of pots from all the existing kilns and individual potters as well as from many of the historical kilns. They carefully documented their trips around the region, interviewing potters and photographing the processes involved.
This research was transformed into a book project after David was introduced to a publisher, Yūzan Kaku of Tokyo, by international ceramics scholar, Koyama Fujio. A Japanese translation of David's original appeared in 1974 but the English text has yet to be published.
The Hale Collection exemplifies the warmth and simplicity of ceramics made in this part of Japan. The glazes on the functional wares are surprisingly bold yet modest, and the hand-painted decoration over slips on stonewares and underglaze on porcelains can be charming and assured. The first public exhibition of some of the Hale Collection was held at the Ruthin Craft Centre from 1 April – 24 June 2012, accompanied by an exhibition catalogue.
To conclude, David will reflect on his return to Sendai in October 2013 after an interval of forty years. In spite of several decades of economic pressure, and setbacks following the disastrous earthquake, tsunami, and the ensuing radiation in March 2011, many Tohoku kilns are alive and well. Traditions and characteristics have largely been maintained and there are some interesting new developments.
David Hale is the author of Ceramics of North-East Japan (Tohoku-no Yakimono) published in Japanese by Yūzan Kaku, Tokyo, 1974. Born in 1940 in Stroud, Gloucestershire, he received a B.A. Hons. in English Language & Literature from Exeter University (1961) and an M. Litt. with a focus on Henry James, from Bristol University (1966). Hale has had a number of visiting Lectureships; at the University of Ceylon (1961 – 63), Tohoku University (1966 – 72), and Kyoto University (1975 – 1986). An M. Phil. (Theoretical Linguistics) from Cambridge University (1987) was followed by further posts at Kumamoto and Durham Universities.
Date: Monday 14 April 2014, 6.45pm
Venue: The Swedenborg Society , 20-21 Bloomsbury Way, London WC1A 2TH