The Disasters of 11th March- One Year On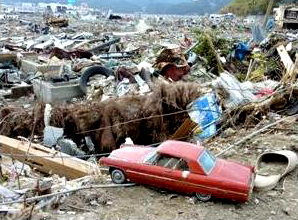 Date: Friday 23 & Saturday 24 March 2012 (Fri: 10.30am until 7.00pm, Sat: 9.30am until 2pm)
Venue: Nissan Institute of Japanese Studies, University of Oxford, 27 Winchester Road, Oxford OX2 6NA
Booking deadline: 9 March – Miss Jane Baker (jane.baker@nissan.ox.ac.uk; Tel: 01865 274570)
The gigantic earthquake and tsunami on March 11, 2011 devastated a huge area of Tohoku and resulted in 15,845 confirmed deaths and over 3,000 people reported missing. This unprecedented natural disaster triggered an explosion at the Fukushima Daiichi nuclear power plant spreading radiation in the immediate aftermath. As the initial impact of this world-wide media event fades there has been speculation as to its longer term significance. Some social critics have even labelled this event the 'second defeat of the war,' implying it could be an epoch changing event from which Japan will have to resurrect itself. The Japanese media have begun to use the phrase 'post 3.11′ to describe a society under transformation in imitation of post 9.11 New York.
What can the world learn from Japan's experiences of this unprecedented disaster? Reactions have revealed many hidden aspects of Japanese society, raising enormously important questions regarding society, economy, politics, people, culture, science, technology and media. We have invited specialists from Japan and the UK in diverse fields to a two-day conference to be held on March 23 & 24 in 2012 – just over a year on from the disaster.
The conference at The Nissan Institute of Japanese Studies is intended to provoke academic debate among social scientists from both countries to contribute to our mutual understanding of how an industrialised society like Japan can confront and overcome such a traumatic natural disaster, accompanied by a still continuing nuclear crisis in Fukushima. We invite you to join us.