The essence of omotenashi – Rethinking hospitality with Toru Machida, Head Concierge of The Savoy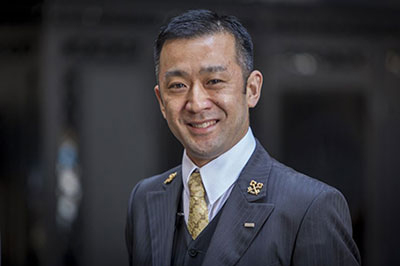 The concierge is the public face of a hotel and his or her reputation can be an important factor when choosing where to stay. Toru Machida is the first Japanese to become Head Concierge at London's five-star Savoy, an iconic hotel which has long played host to royalty, politicians and stars of the silver screen and which occupies an enviable position in the UK, where much store is set by traditions and status.
It has been 23 years since Toru Machida arrived in the UK at the age of 19. Starting as a room cleaner, he has worked his way up to a position as a top concierge. From making restaurant reservations to getting tickets for shows, Mr Machida does all he can to meet any requests from guests. Whether guests are trying to buy the latest games console on the day of release, or trying to get in touch with an old friend with whom they have lost contact, Mr Machida never says no. The ultimate spirit of omotenashi is demonstrated by someone who goes above and beyond the call of duty to understand people's desires, and results in guests who return time and again.
In this lecture, Mr Machida will discuss the art of looking after hotel guests with anecdotes from his experience, detailing his techniques for anticipating needs and managing the expectations of hospitality.
Toru Machida was born in Tokyo in 1976 and came to the UK after graduating from high school. He studied hotel management at university and,in 2001, started work at the Four Seasons Hotel in Canary Wharf. Beginning in housekeeping, he worked his way up to concierge clerk. He has extensive experience as concierge working in renowned hotels. Since December 2014, he has been working as Head Concierge at The Savoy; the first Japanese to do so.
Date: Monday 30 April 2018 6:30pm
Venue: The Swedenborg Society, 20-21 Bloomsbury Way, London WC1A 2TH