The Future of the Sino-Japanese Relationship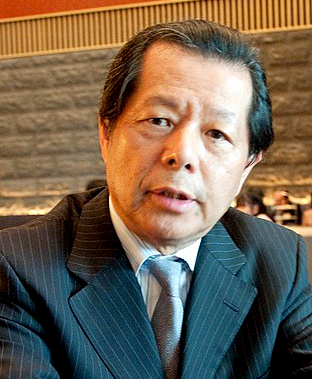 Date: 1 June 2011,6-7pm
Venue: Daiwa Foundation Japan House, 13 – 14 Cornwall Terrace, London NW1 4QP
Tel:020 7486 4348
Email: office@dajf.org.uk
Web: http://www.dajf.org.uk
Organiser: The Daiwa Anglo-Japanese Foundation
Fee: Free but booking is essential at http://www.dajf.org.uk/events/booking-form
The last two decades have witnessed a power shift in East Asia. China's economic ascendancy has coincided with a period of economic uncertainty in Japan, resulting in debates on the relative status of the two economies and their future trajectories. Meanwhile, territorial disputes, historical issues and regional security concerns have further influenced the current state of Sino-Japanese relations. According to Yoichi Funabashi, one of Japan's most widely read commentators on foreign affairs: 'A rising China will induce critical, painful, and psychologically difficult strategic adjustments in Japan's foreign policy. Japan has not known a wealthy, powerful, confident, internationalist China since its modernisation in the Meiji era.'
This lecture, part of a UK lecture tour organised by the Daiwa Foundation, will look to the future in assessing the impact and importance of the implicit rivalry between these two major powers with longstanding historical and cultural ties.
Speaker:
Yoichi Funabashi is the former Editor-in-Chief and Columnist for the Asahi Shimbun. He graduated from University of Tokyo and acquired his Ph.D. from Keio University. He was a Nieman Fellow at Harvard University (1975-76), a visiting Fellow at the Institute for International Economics (1987), a Donald Keene Fellow at Columbia University (2003), and a visiting professor at the University of Tokyo Public Policy Institute (2005-2006). During his service at the Asahi Shimbun, he received many prizes including the Vaughn-Ueda Prize, the Japan Press Award and the Ishibashi Tazan Prize.
Chair:
Charles Grant is Director of the Centre of European Reform (CER). He studied Modern History at Cambridge University and joined The Economist in 1986 where he wrote about the City. He was posted to Brussels in 1989 to cover the European Community, before becoming the Defence Editor in London from 1993. He left The Economist to become the first Director of the CER in 1998. He was a Director and Trustee of the British Council from 2002 to 2008, and is a regular contributor to The Financial Times and The Guardian, amongst other publications.