The Green Chorus Lunchtime Recital: Memorial Concert for the sufferers of the Great East Japan Earthquake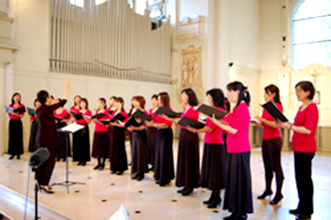 The Green Chorus is a Japanese women's choir formed more than 30 years ago in Golders Green, London. Hence comes the name the Green Chorus.
Since the Great East Japan Earthquake and Tsunami in 2011, the Green Chorus has been taking part in numerous charity events and memorial concerts.
This year, singing at St Dunstan-in-the-West, again for those people who are trying to reconstruct their lives in Tohoku region, the choir will be presenting a song " Cantate Domine" composed by Ko Matsushita, a Japanese composer well known world wide.
Donating his works, Mr Matsushita initialised a project called Sing for Japan.
The Green Chorus's performance of "Cantate Dimino " could be the UK premiere.
Programme includes:
Traditional folk songs and children's play songs
English Madrigals as well as Western music by Handel and Brahms
We will also sing: Hana-wa-saku (Flowers will bloom) – rehabilitation support song for the sufferers of the Great East Japan Earthquake
Conductor: Mikiko Ridd
Piano: Noriko Sekiya
Date: 12 March 2014, 1.15pm – 2.00pm
Venue: St Dunstan-in-the-West, 186A Fleet Street, London EC4A 2HR
Email: yukiko.y130@gmail.com
Web1: http://www.nipponclub.co.uk/html/05.html
Web2: http://www.stdunstaninthewest.org/
Organiser: Green Chorus ( Nippon Club)