The Green Chorus – the 24th Annual Concert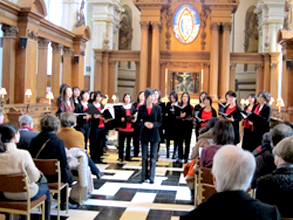 The Green Chorus is a Japanese women's choir founded in Golders Green, London in 1986. Hence comes the name the Green Chorus.
Soon after the Great East Japan Earthquake and Tsunami last year, participating number of charity events, the Green Chorus organised two concerts on their own and raised substantial sum to donate to the people in Tohoku Region. They also contributed a song at Great East Japan Earthquake Memorial Service at Westminser Abbey on the 5th June 2011.
The Green Chorus took part in the chorus events called the Voicelab at the Royal Festval Hall in 2009 and 2010. The Group is a regular participant in the Japan Matsuri.
The programme for this year's concert includes :
Japanese songs – tradional & modern incl. theme songs from popular Manga animes
Western songs by T.Weelkes, Vaughan Williams, A. Gibbs and more
Flute music from Japan and Europe
Conductor : Mikiko Ridd
Piano : Noriko Sekiya
Japanese flute :Tomoko Kinuta (Special Guest)
Admission Free
Date: 16th June 2012, 4 :00pm
Venue: St John's Wood Church, Lord's Roundabout, London NW8 7NE
Email: keizushi_greenchorus@yahoo.co.jp
Web1: http://www.nipponclub.co.uk/html/05.html
Web2: http://www.stbrides.com
Organiser: Green Chorus ( Nippon Club)