The Ise Shrines: Cyclical Narratives in Architecture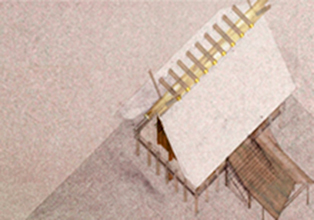 Located in the city of Ise in Mie Prefecture on the eastern coast of Japan, the Ise Shrines are among Shinto's holiest sites and a place of pilgrimage. There are two main shrine complexes, an Outer Shrine (Geku) and an Inner Shrine (Naiku), located about six kilometres apart. The Shinto shrines are dismantled and rebuilt from scratch on an adjacent site to exact specifications every twenty years. In this way, the buildings will be always new, but also always ancient and original. The tradition of reconstruction and relocation has taken place since 690AD and will occur again for the sixty-second time in 2013. The ceremony, known as Shikinen Sengu, enables traditional technologies to be preserved, along with an architectural style that would otherwise have decayed and disappeared long ago.
Chiara Hall will tell the story of the Shikinen Sengu, accompanied by her drawings, which portray the rituals of four social groups that are part of the ceremony within the landscape – pilgrims, priests, festival-goers and construction workers. Her drawings are based on research into the aesthetics of twelfth-century Japanese narrative handscroll paintings. Structured like silent films, the stories of the shrines are represented by a series of static scenes, combined with scenes incorporating movement through axonometric and horizontal projection. Chiara will explain the methods she used, whilst highlighting ideas about continuity and impermanence.
Contributors: Chiara Hall, Isabelle Priest
Date: 9 April 2013, 6:00pm
Venue: Daiwa Foundation Japan House, 13 – 14 Cornwall Terrace, London NW1 4QP. Nearest tube: Baker Street
Tel: 020 7486 4348
Email: office@dajf.org.uk
Web: http://www.dajf.org.uk
Organiser: The Daiwa Anglo-Japanese Foundation