The Japan Foundation and SOAS Language and Culture Course (Beginner Level)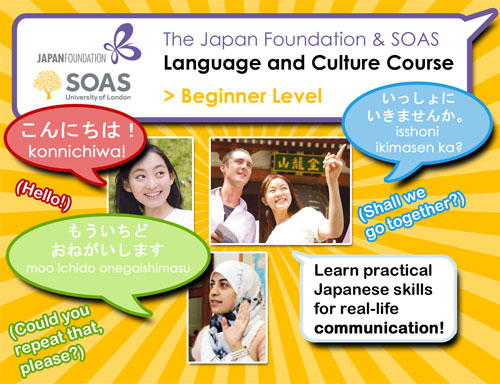 The Japan Foundation & SOAS Language and Culture Course (Beginner Level) is a new kind of course for absolute beginners of Japanese. It is based on the JF Standard for Japanese Language Education, rather than traditional methods of language education that focus on grammar and sentence structure. The aim of the course will be to use Japanese language skills to get to know people, visit restaurants and take part in many other Japan-related events. At the end of every lesson, participants will be able to perform specific, practical tasks in Japanese.
The course will not focus on language alone; learning Japanese culture will also be an important element in the lessons. The course will incorporate videos, games and media that will help you to learn about Japan, in addition to social networking services such as Facebook to give you the opportunity to use your new Japanese skills outside of the classroom. You will also be given exclusive access to the supplementary Marugoto Plus Japanese Learning website. Participants of this course will even be eligible for temporary full membership of the Japan Foundation London Library for the duration of the term they are enrolled in and will be able to borrow resources from its collection of over 9,000 Japanese language education textbooks and other learning materials.
This course is perfect for absolute beginners of Japanese who would like to use their new language skills in practical situations, and to really connect with Japanese society.
Term 1: 15th January 2013 – 26th March 2013 (every Tuesday), 19:00 – 21:00
Term 2: 23rd April 2013 – 25th June 2013 (every Tuesday), 19:00 – 21:00
Course Leaders: Dr Seiji Fukushima (Term 1) and Ms Hiroko Tanaka (Term 2), Japanese Language Advisors at the Japan Foundation London
Course Tutor: Mr Shin Okajima, SOAS Language Centre
Venue: The School of Oriental & African Studies (SOAS), University of London
Course Fee: £250 per term, plus £20 for course textbook and materials
Date: 15 January 2013 – 26 March 2013
Venue: SOAS, University of London, Thornhaugh Street, Russell Square, London WC1H 0XG