The Japan Foundation Touring Film Programme Once Upon a Time in Japan – Special Talks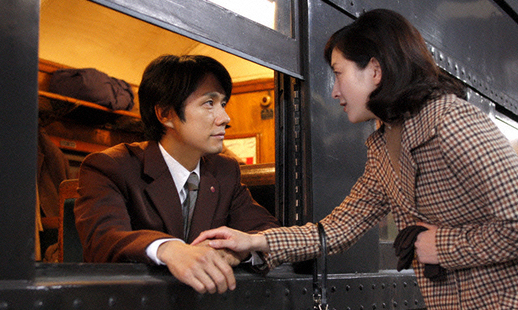 Marking its 10th anniversary, the Japan Foundation Touring Film Programme returns this February to look back into decades passed through the eyes of contemporary filmmakers. Beginning at the ICA, London on 1 February 2013, and then continuing to tour venues nationwide, the season will touch upon a trend prevalent in recent Japanese cinema, showcasing a variety of exciting works through a variety of genres, styles and tones.
To complement the film programme and prior to its start, The Japan Foundation presents three special seminars, providing interesting and unique spins on Japanese cinema and culture, and shedding light on this year's theme and selection.
United Red Army and the Legacy of Koji Wakamatsu
Talk by Jasper Sharp
23 January 2013 from 6.30pm, at the Japan Foundation, London
Koji Wakamatsu, a controversial and iconoclastic filmmaker tragically passed away in October 2012 aged 76. A self-taught director and producer, Wakamatsu produced over 100 films in his career, gaining notoriety for his soft-core 'pink' and exploitation films before delving into a more politically-charged cinema. Wakamatsu's most ambitious and celebrated film is United Red Army, a docu-drama depicting the rise and fall of 1960s left-wing radicalism, will be screened as part of this year's Japan Foundation Touring Film Programme.
Complementing this screening, Jasper Sharp, writer and film curator, will briefly go through Wakamatsu's prolific career and contribution to the nation's cinema. Focusing particularly on United Red Army, this talk will look into how Wakamatsu came to make the film about a brutal and bloody history that had almost been forgotten, and how it stands out as the best among the films depicting Japan's epic historical radicalism activities in the 1960s.
Japanese Cinema of the Time…What was made back then?
Talk by Alexander Jacoby
24 January 2013 from 6.30pm, at the Japan Foundation, London
This year's Japan Foundation touring programme will showcase contemporary Japanese films highlighting a new wave of nostalgia for the past, representing the lifestyles and values of earlier decades. But what were the popular films of those decades actually like, and to what extent were those films representative of the values and tastes of society of the time?
Alexander Jacoby, Lecturer in Japanese Studies at Oxford Brookes University, will provide an informative accompaniment to this year's Japan Foundation Touring Film Programme Once Upon a Time in Japan, guiding you through Japanese cinema in the 20th century, and showing how Japanese cinema and Japan itself has transformed over the decades.
Art, events and bodies in 1960s Japan
Talk by Peter Eckersall
30 January 2013 from 6.30pm, at the Japan Foundation, London
Through public and social events such as the 1964 Tokyo Olympics, the 1970 Osaka Expo and the radicalisation of the student protest movement, the 1960s in Japan can be considered an era of embodied cultural acts; events all engaging with experience of the body, whether it be athletics, the crowds who gathered at Expo, and mass rallies that took over the city streets and railway stations. So too can a relationship with the body be identified in the arts of the 1960s, ranging from its use in stage performance, art events and the fascination with the body in cinema.
From Nagisa Oshima's films about the protest movement to the Black Flag stage performance art events, Peter Eckersall, Associate Professor of Theatre Studies in the School of Culture and Communication, University of Melbourne and Research Fellow at the Centre for Interweaving Performance Cultures, Freie Universität Berlin, will discuss the various connections between the body, politics and action in the 1960s in the broader cultural context and look into how the era can be considered a decade of embodied gestures and events. This event will give an insight to the state of arts and culture in the 1960s, an era marking a milestone in Japan.