The London Okinawa Sanshinkai and Butoh UK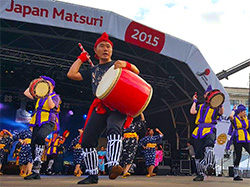 Join us for an evening of traditional Okinawan folk music and Butoh dance in this Japanese extravaganza and be transported to the Orient!
The London Okinawa Sanshinkai is an international group enthusiastic about Okinawan folk, classical music and traditional Japanese dance. These Japanese traditions are often a chance for all members of the community to come together and celebrate.
A great evening for the whole family!
Ticket: £7 / £5 conc.
Date: 22 July 2017
Venue: Poplar Union, 2 Cotall St, Poplar, London, E14 6TL
Tel: 020 3039 3330
E-mail: info@poplarunion.com
Web: https://poplarunion.com/event/the-london-okinawa-sanshinkai-and-butoh-uk/
Organiser: London Okinawa Sanshinkai