The Space in Between Eunsook: Choi Solo Exhibition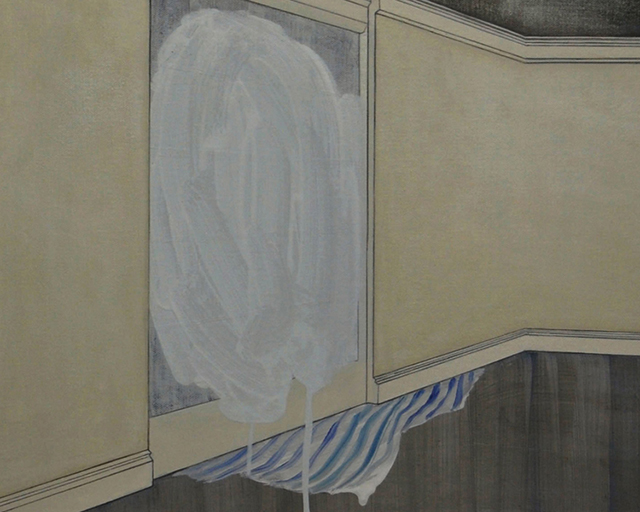 MOKSPACE is delighted to host 'The Space In Between,' a two-week exhibition by London-based Korean artist Eun Sook Choi.
A game of presence and absence, Choi's practice privileges liminal, forgotten and in-between spaces: walls, passageways, staircases and windows. She explores the ways in which cultural movements and fashions subtly infuse these spaces, producing a nostalgic, oneiric quality when translated onto canvas in acrylic and oil.
In the artist's own words:
'This has been the starting point of an attempt to explore the space between familiarity and strangeness through an alchemy of iconography, visual experience and the fluid language of painting.'
Her corpus demonstrates a curiosity for the corruption and dissolution of the boundaries between foreground and background, and between concepts of internal and external space. She suspends architecture and geometry for observation and reflection, injecting dated colour patterns into apparently timeless and abstract architectural forms.
Choi's spectator is confronted with two choices: either to attempt to restore a familiar logic to the organisation of interior space in her paintings, or to submit to the instability of her foreign, challenging narratives. The spectator must grapple with the reflexive desire to cohere these troubling spaces, to compensate for their missing fragments and to rectify their blurred lines. And as Choi's paintings adorn MOKSPACE's indoor walls, the spectator experiences a meta-curation of interior space.
The startling corners and unexpected bends in Choi's schematic maps of domestic space suggest the dialectical fluidity and malleability of both physical and mental architecture. At MOKSPACE, visitors will have the opportunity to experience Eun Sook Choi's practice in situ, as she adds her own unframed brushstrokes to the gallery's wall space.
Exhibition: 8th – 20th Oct 2013
Venue: MOKSPACE, 33 Museum Street, London WC1A 1LH