Trooping the Colour, Special seats at the Major General's Review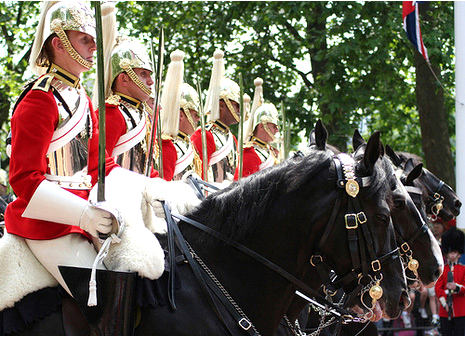 One of the great annual sights in London is the Queen's Birthday Parade on Horse Guards Parade in Whitehall on Her Majesty's Official Birthday. All available Foot Guards, Household Cavalry and King's Troop Royal Horse Artillery march past Her Majesty starting at 11.00 am. The event will close at approximately noon.
The Society has arranged tickets for 30 good seats for the dress rehearsal, held two weeks before the real parade. Apply early!
The Household Division are the Footguards and Household Cavalry which make up the personal guard for The Queen. It is important to remember that these are also fighting troops; many of those on parade will be veterans of various campaigns including Afghanistan and Iraq. About 1,000 men in bearskins, tunics and full uniform will be on parade; there will be a Massed Band, a Mounted Band, and a large number of cavalry. The troops will be reviewed and then will march past twice. The Queen will not be present on the 2nd of June, but the Dress Rehearsal parade will be taken by the General in command of all Household Troops.
Members should be seated by 10.00 am, but we are arranging to meet at 9.15 am for coffee and a short talk (optional). This will cover the conduct of the parade, its history and tradition. Full details will be sent to those who book.
To reserve your place, please call the Japan Society office on 020 7828 6330 or email events@japansociety.org.uk
Date: Saturday 2 June 2012 10.00am
Venue: Horse Guards Parade, Whitehall, London SW1A 2NS
Fee: £5 per head for Japan Society Members, £10 for non-members