Ura Matsuri Mini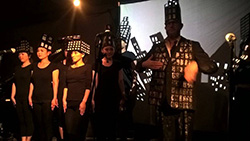 Ura Matsuri Mini is a fun, friendly, accessible night of live performance and music from Japanese Londoners and their London friends.
An evening of the joyful, the serious and mostly the absurd!
It follows on from last years all day Ura Matsuri Festival held at East Londons Cafe Oto, Curve Garden and Oto Project Space.
We aim to grow he seed of the Ura from these first events into ever larger and ever more inclusive celebrations of Asian immigrant culture and arts within the UK. Organised by a group of London based Japanese artists including members of the long standing, much loved performance group Frank Chickens, it brings together grass roots Japanese immigrant culture in London and local alternative art and music scenes.
We celebrate the musics and arts cultivated and created by UK based Japanese artists, who we have now christened 'The 3rd Culture' This celebration of UK Japanese arts aims to encourage general appreciation of the '3rd' cultures being explored by immigrants in the UK, including local Japanese people. We feel strongly about the importance of inclusive cultural exchanges to celebrate the positive influences that the introduction of new cultures gives to society as a whole.
And we like to have fun and share as well!
We hope to see you at this or a future Ura Matsuri event!
Admission: £6 in advance, £8 at the door
Date: 29 Sep 2017
Venue: Bethnal Green Working Mens Club, Pollards Row. E2 6NB
Organiser: Ura Matsuri Committee