Winds of Change: Staged Readings 2016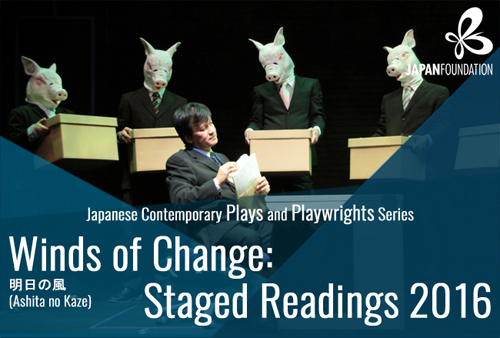 The Japan Foundation, in collaboration with Yellow Earth and StoneCrabs Theatre Company present a new monthly series of events, to introduce to UK audiences the work of some of Japan's most outstanding playwrights, all of which will be heard in English for the first time.
Synopsis: Sunako is fast approaching 40 and pressure is mounting for her to find a husband. A marriage is arranged with Junichi and it's not long before a baby is on the way but tragedy strikes and Sunako is forced to undergo a hysterectomy. Devastated, she seeks surrogacy in India, where the 'rent a womb' business is thriving. But, what does that mean for the renter and the rented? Atsuto Suzuki's surreal satire takes a look at what happens when two very different worlds collide in the search for life and survival.
Date: 1 September 2016 from 7.00pm
Venue: The Studio Theatre, RADA (Royal Academy of Dramatic Art), 16 Chenies St, London WC1E 7EX