Workshop: Let's Catch the Lion – Dobutsu Shogi (Animal Shogi) instructed by Madoka Kitao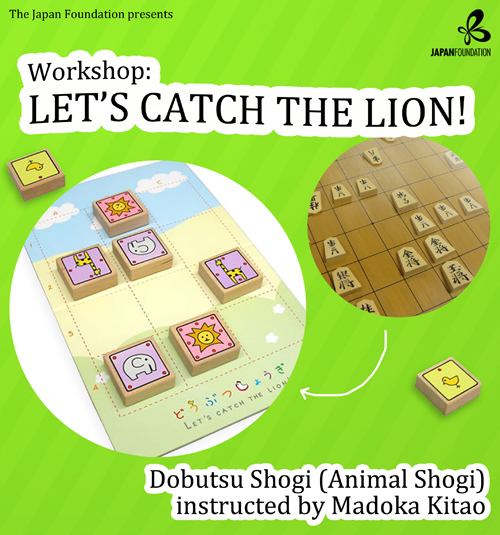 Shogi is a traditional Japanese board game, similar to Western Chess. Played by two players, the different ways in which the pieces can move arguably makes Shogi strategically more interesting and exciting to play through to the end. However, the downside of Shogi is that it takes some time to master…
In order to encourage those who have always wanted to play Shogi but didn't know where to start, the Japan Foundation has invited Madoka Kitao, one of Japan's most distinguished Shogi players to teach you 'Dobutsu Shogi' ('Animal Shogi'), a simplified version of Shogi, invented by Kitao herself.
Having much less pieces on the board, Dobutsu Shogi may seem an easy game at first, but once you experience it, you will soon be drawn into the dazzling labyrinthine world of Shogi. The game is suitable for all ages (as long as you can recognize the animal pictures on the pawns!) and even those who consider themselves a Shogi master will also be fascinated to play this wild variation!
At the beginning of workshop, Madoka Kitao will also talk about the culture and history of Shogi in Japan.
Come and enjoy Dobutsu Shogi and meet the master and inventor of this cute board game!
For ages 8 to 108! (Children under 11 must be accompanied by a responsible adult.)
Workshop Times:
11:00am – 12:30pm (for adults and independent children)
2:00pm – 3:30pm (for families)
2:00pm – 3:30pm (for families)
Date: 11 October 2014
Venue: The Japan Foundation, London