Yuka Ishizuka Violin at Wigmore Hall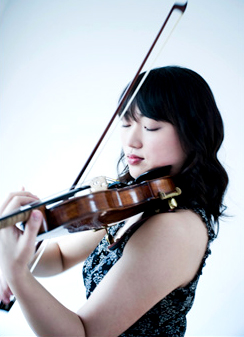 Date: 30 April 2012, 7:30pm
Venue: Wigmore Hall, 36 Wigmore Street London W1U 2BP
Tel: 020 7935 2141
Admission: £8 £10 £13 £15
Web1: http://www.yukaishizuka.com
Web2: http://www.wigmore-hall.org.uk/whats-on/productions/anna-patalong-soprano-elizabeth-rossiter-piano-yuka-ishizuka-violin-tadashi-ima
Organiser: Musicians Company Concordia Concert
Violinist Yuka Ishizuka has been described as an "irresistible" artist (Music and Vision) and bringing a "lyrical outpouring of purest joy".
Her appearances at major venues including Suntory Hall (Blue Rose) in Tokyo, Wigmore Hall London, Kings Place London, St. Martin-in-the-field, Steinway Hall and the Drapers Hall London. Yuka has appeared as soloist with Junior Academy Chamber Orchestra, Croydon Symphony Orchestra and Academy Strings Orchestra at Royal Academy of Music, with whom she premiered the Mozart Concerto for Violin and Piano by Dr. Tim Jones in 2010. She made performances of the Three Brahms Violin Sonatas in London, and has also collaborated in chamber music with Itzhak Perlman, Robert Cohen as well as Maurice Hasson with whom she performed the Double Bach Violin Concerto.
She is a recipient of numerous award and prizes including the Tillett Trust Young Artist Platform Award, Worshipful Company of Musicians Award, Rohm Music Foundation, Manchester Mid-day Concerts Society Artists Award, the Philharmonia Orchestra Martyn Musical Scholarship, the first prize at the International Young Musicians' Competition in Italy, Beethoven Piano Society of Europe Chamber Music Competition, the most promising young artist by the Oikawa music agency in Japan, Winfield Small Solo Violin Prize and Harold Craxton Chamber Music Prize at Royal Academy of Music.
Her festival appearances include Salzburg Mozarteum Summer Academy, Pablo Casals Festival, Perlman Music Program, Prussia Cove International Music Seminar, where she worked with Ana Chumachenco, Schmuel Ashkanasi, Igor Oistrakh, Itzhak Perlman, Donald Weilerstein, David Takeno, Gyorgy Pauk and Gerard Poulet.
Yuka holds Bachelor and Master of Music from Royal Academy of Music with the first class honors and the highest violin exam mark at Academy, where she studied with Maurice Hasson and Tomotada Soh. Her future engagement includes performances at Wigmore Hall, Bridgewater Hall Manchester, concerto performance with Sevenoaks Symphony Orchestra.
She is also teaching at Junior Academy, Royal Academy of Music.
Yuka plays a 1865 Enrico Ceruti violin, kindly on loan to her from the Royal Academy of Music.