Yuki Negishi – piano recital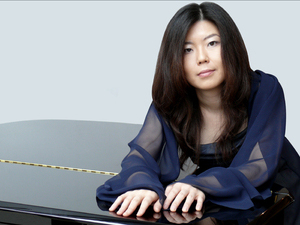 Programme:
Chopin, Schubert and Rachmaninoff
Artist info:
Yuki Negishi is increasingly in demand as an artist of rare poetry, intensity and virtuosity with a vast repertoire and a magnetic personality. Yuki has already performed in over 200 concerts in the UK where she has resided since 2001, and she regularly performs about 30 concerts a year internationally. Her most recent engagements included a performance of the Brahms 2nd Piano Concerto with the Scarborough Symphony Orchestra/Shaun Matthew, Rachmaninoff's 2nd Piano Concerto with the New London Sinfonia/David Gibson, Poulenc's Concerto for Two Pianos and Orchestra with the Worthing Symphony Orchestra/John Gibbons, Mozart's Piano Concerto K.488 with the Ealing Symphony Orchestra/John Gibbons, recitals across the UK (e.g. Southbank Centre) and Holland. Future engagements include numerous recitals across the UK and Europe.
Born in Tokyo, Japan, Yuki Negishi started playing the piano at the age of 5 in New York City. At the age of 10, she was accepted to The Juilliard School Pre-College Division as an honorary scholarship student. Yuki has since worked with such eminent figures as the late Takahiro Sonoda, Christian Zacharias, the late Irina Zaritskaya, Dominique Merlet, Dr Peter Katin and Murray Perahia. At the age of 16, she was the youngest prize-winner at the Takahiro Sonoda Piano Competition and she was awarded the 2nd prize at the 2000 International Jeunesses Musicales Competition in Bucharest. Since coming to the UK in 2001, she has additionally won no less than 10 coveted prizes at the RCM and elsewhere.
In previous seasons, Yuki has been invited to perform in the UK (Southbank Centre, Royal Opera House Linbury Studio, Leeds International Concert Series, St James's Piccadilly, Steinway Hall, the Bluthner Lansdowne Club series, etc.), the Netherlands (Concertgebouw), France, Germany, Italy (Festival di Londra), Romania, Japan and the USA. Her performances have been broadcast on BBC Radio 3, Channel 4, Dutch, Polish, Romanian and French television and radio.
As a keen chamber musician, she has collaborated with members of the Royal Philharmonic Orchestra, Japan Philharmonic, the Zurich Tonhalle Orchestra, the Royal Concertgebouw Orchestra, and regularly plays with the award-winning London Myriad Ensemble. She was one of the official pianists for the 2008 International Benjamin Britten Violin Competition and at the 2008, 2010 and 2011 International Holland Music Sessions.
Yuki has released a solo CD, and also a DVD from Sound Techniques (www.soundtechniques.co.uk) in conversation with BBC presenter Andrew Green. Yuki has served as one of the jury members for the 2010 1st Sussex International Piano Competition alongside such distinguished pianists as Artur Pizarro, Vanessa Latarche (RCM Head of Keyboard), Ian Fountain, Julian Jacobson and George-Emmanuel Lazaridis. She was a guest jury of the Open Piano Competition (London, October 2012), and is due to be a member of the jury for the 2nd Sussex International Piano Competition (Worthing, April 2013).
Yuki is generously supported by the London Bluthner Piano Centre.
Date: Fri Mar 22nd 2013, 1:10–2:00 pm
Venue: St. Sepulchre, the Musicians Church, Holborn Viaduct, London EC1A 2DG
Organiser: The Anglo-Japanese Society of Wessex